Last updated on March 31st, 2023 at 10:08 pm
Nowadays, external hard drives are becoming popular day by day due to their versatile features. These storage devices are mainly known for their speed, cost, and compact size. It allows you to transfer files, save big data, or create backups of important personal files by extending the storage capacity of your device. But sometimes, you may encounter data loss issues on your external hard disks.
Losing any critical file, either by mistake or intentionally, can put you in trouble. There are numerous reasons why your file may become logically inaccessible, even if it is physically present on the storage device of your system.
Many computer users apply proper data recovery methods to recover data from External hard drives. Along with these methods, there are some data recovery tools available online that you can use to restore your lost data. This post will help you know the top 3 simple ways to recover data from the external hard drive. You can pick up the best method to get your files back from external drives under different circumstances. 
What Causes Deletion of Data Files on Hard Drives?
Before you learn any professional data recovery tool or apply any recovery method, knowing the exact cause of such data loss issues on your device is important. Some common reasons for sudden file deletion on your external hard disks are:
Deleting your data using the "Shift+Del" keys gets permanently deleted from your device/external storage device.
If you format your PC while installing the OS or format a non-boot volume or external hard drive, issues like data loss can occur on them.
Sometimes, your external hard drives get corrupted, making the file stored on them inaccessible. If partition data gets corrupted, drive partitions get lost suddenly, and this deletes your files.
There are other reasons, like sudden power outages, viruses, malware, bad sectors on your external storage device, etc., why files get deleted on your storage device.
Quick Methods to Restore Data from External Hard Drive
Here are some simple methods that will help you to get your deleted files back from external hard disks. If you have lost your data due to any of the above reasons, you can check and apply the following methods to recover data from the external hard drive.
Method 01: Run CHKDSK Command
You can use Windows built-in CMD tool to run the CHKDSK command. This command repair or scan your hard drives, including both internal and external drives. Go through the following steps to learn how to recover data from an External hard drive using the CHKDSK command with the help of CMD:
First, type CMD in the search box located in the bottom-left corner and then run Command Prompt with administrative privileges.
Now, type the command: chkdsk g: /f in the Command Prompt window (replace g with your external hard drive letter). Press Enter key to continue.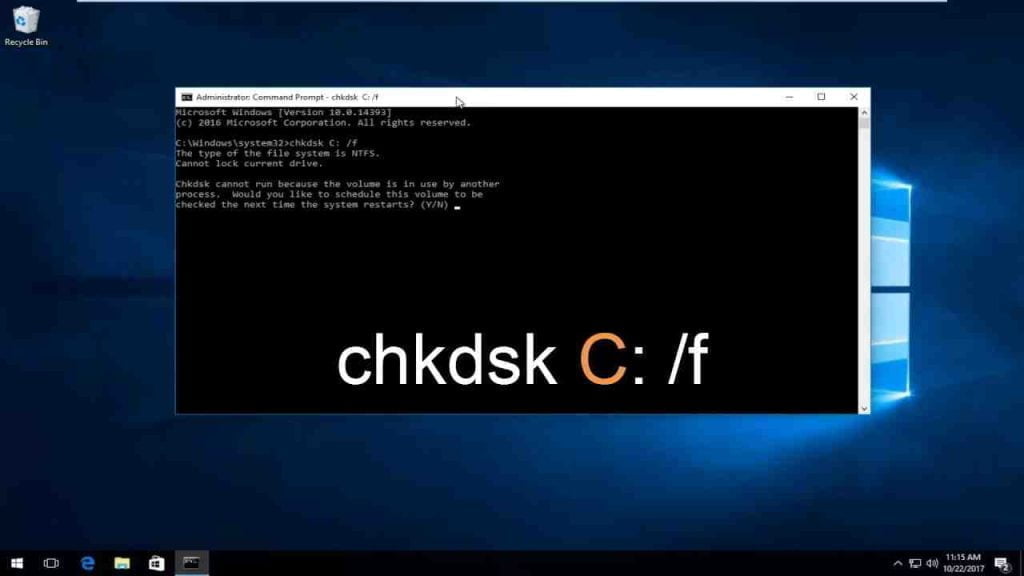 Once the command is executed, wait for some time till the CHKDSK scanning process gets completed. The time required for the execution of the command depends on the size of your external HDD.
After successful completion of the scanning process, reboot your computer and check if the data is accessible or not.
Method 02: Use File History Backup Option to Restore Deleted Data
Windows in-built File History feature allows you to restore deleted, lost, or damaged files on condition that the feature is enabled on your device. If you habitually create a backup of essential data on your device, you can use it to restore the deleted files.
Check the following steps to know how to recover data from an external hard drive that is connected to your PC using the File History backups: Press Windows + I keys to open the Settings application.
Now, click on Update and Security and then click Backup located in the left column.
After that, click on the More Options link located under Back up using File History.
From the pop-up window that appears on the screen, click on the Restore files from a current backup option.
Double-click on the folders that you need to restore and click the green Restore button to save the selected files on your device.
Method 03: Restore Deleted Data on External Hard Drive Using Data Recovery Software
If the above methods fail to recover data from an external hard drive, you can use a third-party data recovery tool. Among several such recovery software available online, we recommend you try Stellar data recovery professional. It is the best tool for your data recovery and is compatible with both Windows and Mac devices. This tool lets users restore deleted files such as photos, videos, documents, and others with simple clicks.
Stellar data recovery professional tool can recover your lost files from almost every storage device, including Hard Drives, Memory Cards, Flash Drives, etc. To recover data from the hard drive using this fantastic tool, you need to: Download and install the Stellar data recovery professional software on your PC.
Launch the software and select whatever you need to recover from the "Select What to Recover" screen. Click the Next button.
On the Recover From screen, select the hard drive from where you need to restore the data, and then click the Scan button.
Once the scanning process gets completed, preview the scanned files and select the files that you need to restore. Then, click the Recover button to save those selected data on any desired location, preferably an external drive.
How do I Prevent Data Loss Issues on External Hard Drives?
The professional data recovery methods to recover lost data from external hard drives are quite easy to implement, it is important to prevent your storage drive from such data loss issues. Given below are some tips to prevent data on your external hard drives:
Always try to keep multiple copies of your important data files. These backups allow you to restore files when data loss occurs on your device.
Avoid keeping your hard drives in direct sunlight and prevent them from extreme temperature or moisture.
Make sure the version of software programs or antivirus applications installed on your device is updated.
Conclusion
Hope the methods mentioned above to recover data from an external hard drive allow you to restore files. We have collected 3 simple ways to recover data from the external hard drive. In addition to the manual methods, we have provided how to restore deleted or lost files using a recovery tool, such as the Stellar Data Recovery Professional. Just use this tool to recover your lost data as soon as possible. There are many reasons why such data loss issues occur on your device; try to find the exact reason and apply proper methods to get your files back.