It is not uncommon for brands to run their businesses online only. Marketplaces like Facebook and Instagram allow companies to build solid recognition and effectively promote their services or products. In this case, creating an individual business page may not be necessary, but if you want to reap benefits from Instagram's in-app features, building a branded website is a must. Luckily, that's pretty doable. But didn't you think about leveling up your game and moving to a more immersive world? The Metaverse, for instance?
As the Metaverse grows in popularity, more and more companies are turning to this virtual world to promote their brand. There are many benefits of such a digital world, and you can quickly enter this field. However, with so many companies competing in the Metaverse, how can you ensure that your company stands out? In this article, you'll learn how to make your marketing endeavors in the virtual world pay off in the long run.
Table of Contents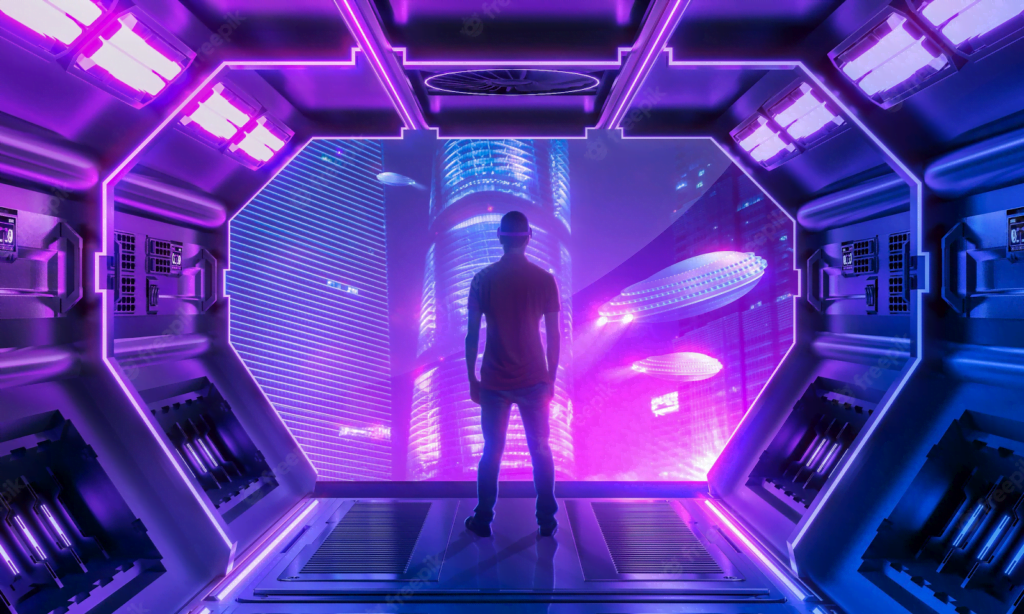 Introducing the concept of the Metaverse – a simulated lifelike world
First and foremost, what is this Metaverse? In brief, it is a virtual world created and managed by a community of users. The Metaverse is a shared, persistent, 3D virtual environment allowing people to interact with each other and computer-generated characters and objects. The primary concept of the Metaverse is to provide a platform for users to create, share, and experience content and applications. You can float into the virtual space regardless of your goals and occupation. Whether a brand owner or a curious layperson, you'll always find something to do in the digital environment.
Discussing how businesses can use the Metaverse for marketing purposes
Companies of any size can use the Metaverse for marketing purposes. By creating an immersive experience for customers and building brand awareness, you can work on two fronts, online and offline. For example, you can create a virtual store where customers can explore and interact with the products. It can help you build a solid reputation and secure more engaging communication and cooperation between you and your clients.
Additionally, you can use the Metaverse to host events and promotional campaigns. Just remember to market the event properly to ensure more people attend it. Leveraging social media for this purpose is the best thing to get people to visit your Metaverse events, especially with an online animation maker. This tool will allow you to create an immersive animation and show what's in it for attendees. This way, more people will be eager to come over and commit to a purchase.
Offering tips on how businesses can stand out in the Metaverse
You don't need to funnel tremendous resources into the Metaverse to get into the limelight. Here are some tips on how beginners can stand out in the virtual world:
Create unique and interesting content: Try to create unique and exciting content to stand out in the Metaverse. You can do it through blog posts, articles, infographics, videos, or tangible experiences (provided your users have the necessary equipment to sense the touch).
Use data to personalize the experience: Another way to stand out in the Metaverse is to use data to personalize the experience for users. It could involve using demographic data to customize the content, messages, or behavioral data to provide a more personalized user experience.
Leverage social media: Social media is a super-powerful tool businesses can use to stand out in the simulated environment. By creating and sharing fascinating content on social media, you can reach a broader audience to invite them to the virtual world. Additionally, you can use networks to connect with customers and create more personal relationships.
Providing examples of businesses that are successfully marketing in the digital environment
Some of the most famous businesses using the Metaverse for marketing purposes are Coca-Cola, Pepsi, and Red Bull. They operate in the virtual world to create branded environments where users can interact and have fun. For instance, Coca-Cola has designed a virtual world called "Pokeland," where people can catch virtual Coke bottles and earn rewards. Pepsi has come up with a space called "Pepsi World" to play games and interact with each other. In turn, Red Bull has developed an environment called "Red Bull Air," where you can fly around and compete in races. Other than the full-fledged simulated world that requires the minimum set-up to let in, such as the VR headset, these companies have successfully provided Augmented Reality and Virtual Reality experiences.
Key takeaways
Entering the Metaverse doesn't have to be costly and painful. As a small business owner, all you need is:
Use existing platforms: There are already several established platforms within the simulated environment that businesses can use for marketing themselves. These channels can provide businesses with a ready-made audience, tools, and resources to help them get started.
Use traditional marketing methods: Don't hesitate to use traditional marketing methods to reach prospects in the simulated space. It includes online ads, email marketing, and even physical advertising in some cases.
Listen to your audience: Adjusting to your targets' wishes is less demanding in the virtual world than anywhere else. You can change the environment, design it differently, change the order of things, and do practically anything to meet people's expectations.
Create your Metaverse platform should you have extra resources. It can be a great way to differentiate yourself from other businesses and build a loyal following.
You may also like to read:
Leverage AI in your Digital Marketing Strategy
Trollishly: How Is Facebook Marketing Helpful For Food Bloggers?
4 Errors with YouTube Marketing and How to Avoid Them
The Complete Video Marketing Checklist for Businesses in 2021