If you love watching web series, you must try Korean dramas. They will take you to another world of fantasy and romance. Dramacool is the best online website to stream Korean dramas and movies. You can also watch other Asian TV series and films on this website. Let's learn more about Dramacool together!
Table of Contents
Features and Content Offered by Dramacool
Dramacool is an online streaming website with many features and exciting content. Users can find Asian content, including Korean, Japanese, Taiwanese, Hong Kong (TVB), Chinese Mainland, and Thailand dramas and films. The library of Dramacool has content in several genres, such as Action, Thriller, Romance, Sci-Fi, and more. All the movies and serials have subtitles in various languages. This website has a user-friendly interface with an advanced search bar at the center. One intriguing thing about Dramacool is that you can find both new releases and classic movies and serials.
User Experience and Interface
The user experience of Dramacool is satisfying because it is an easy-to-navigate website with a simple layout. Streaming lovers are never disappointed with this website as it gives a buffering-free experience. The platform offers multi-quality servers so you can choose between them according to your preference. Furthermore, users can also bookmark their favorite shows to watch later.
Pros of Using Dramacool
There are many pros of using DramaCool for streaming Asian content. A few of the Pros are the following:
You can access a wide range of Asian serials and movies on a single website in HD quality.
This website offers content globally because it has subs and dubs dramas.
There are no subscription fees, and users can stream their favorite Korean serials without spending a single dime.
The website has thousands of films and serials–you will never be bored.
Cons and Limitations of Dramacool
By exploring the cons and limitations of Dramacool, you can better understand its potential drawbacks. Here are the major cons and limitations of Dramacool:
Dramacool is restricted in many countries due to copyright issues.
This website faces technical issues, so users face temporary shutdowns.
You can get annoyed with ad popups and redirection to the new website by clicking anywhere.
The content uploaded on Dramacool does not have official licensing, violating copyright laws.
Some videos are improperly subtitled, which will spoil your watching experience.
Legal and Ethical Considerations
Using Dramacool raises legal and ethical concerns due to potential copyright infringement, as it may distribute copyrighted content without proper authorization from content creators and rights holders. No matter how much they claim to be legal, these websites are not legitimate. If you can afford to pay bills of premium sites, consider using legal streaming platforms such as Netflix.
User Reviews and Feedback
Dramacool has a positive image in the world of streaming websites. Users never report any bugs or viruses while using Dramacool. Besides the website, it also has an Android and iOS application. Movie enthusiasts are amazed by the variety and quality of content Dramacool offers. The only common complaint of users is regarding advertisements.
Top 17 Alternatives to Dramacool-30 w
If you are looking for more options beyond Dramacool to watch Kshows, Look no further! I have compiled a list of the top 17 alternatives to Dramacool, ensuring you have a diverse selection of platforms to explore.
1. Kissasian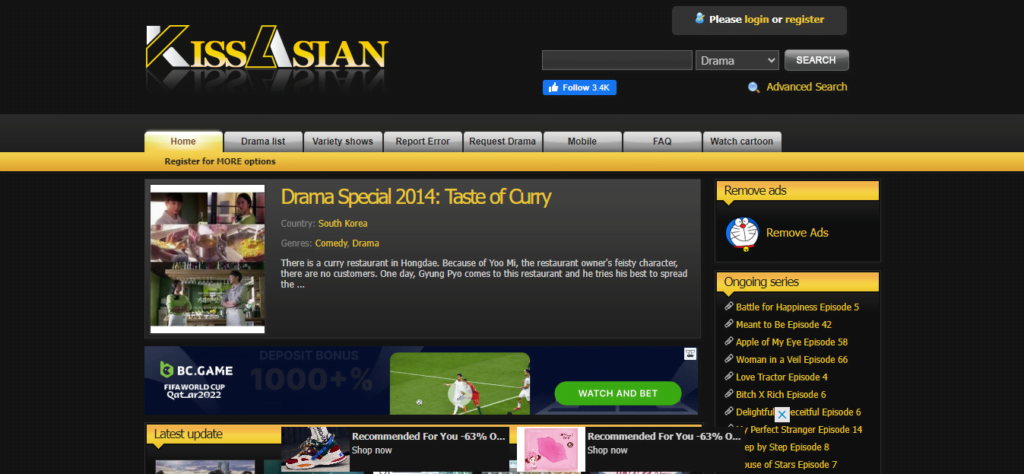 Kissasian is the best alternative to Dramacool. It offers high-quality dramas and movies from Korea, Japan, and China. The website layout is attractive yet simple. You can have an ad-free experience if you subscribe to the premium package.
Link: https://kissasian.li/
2. Myasiantv
Myasiantv is an online streaming platform for watching Asian films and serials. This website is available in many countries and had 86 million visits till now. You can also download your favorite shows using this website.
Link: https://myasiantv.cx/
3. Asiandramas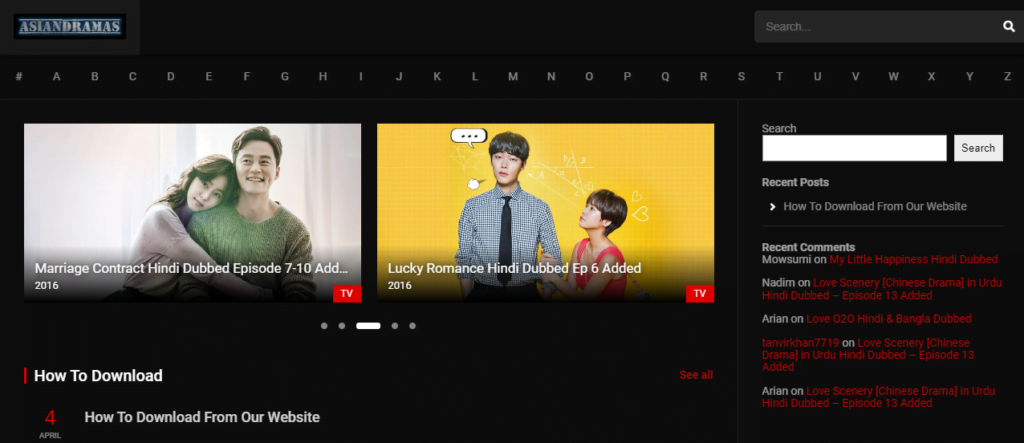 Asiandramas is another website that allows users to watch Asian dramas for free. Users can watch content without registration. In addition, You can find many popular Korean shows, such as Tail of the Nine-Tailed and The Heavenly Idol.
Link: https://asiandramas.xyz/
4. Mydramaoppa
Mydramaoppa is one of the sites similar to Dramacool for watching Korean movies and dramas. This website shows the schedule of releasing date for your ease. Mydramaoppa is the ultimate destination for Kshows maniac.
Link: https://mydramaoppa.com/
5. Viki
Viki is a mindblowing free platform for streaming Asian shows. It is too good to be a free website. This website offers a Viki Pass to experience ad-free streaming. Viki has an eye-catching website design with well-categorized sections.
Link: https://www.viki.com/
6. Kocowa
Kocowa is a website to watch Korean films and movies for free. It is unavailable in many regions, but it can be accessed by installing a VPN. The website has numerous content in romance, comedy, suspense, and fantasy genres.
Link: https://www.kocowa.com/
7. Viu
Viu is a popular streaming platform that offers a vast collection of Korean dramas and other Asian content, providing viewers with a seamless and immersive streaming experience.
Link: https://www.viu.com/ott/no-service/
8. OnDemandKorea
On-Demand Korea is a website that offers both free and paid Korean content. This website is unique because users can watch Korean films, dramas, news, and TV dramas. You can also sign up on this website to access more features.
Link: https://www.ondemandkorea.com/
9. Tubi TV
Tubi TV is a legal alternative to Dramacool to watch serials and movies from different countries, including Korea. It is a free website that profits from advertisements. Tubi TV is also available as an application, giving a better experience.
Link: https://tubitv.com/
10. Snaptube
Snaptube is a versatile online platform that allows users to download and stream videos from various sources, including Korean dramas. It offers a convenient and user-friendly interface for accessing and enjoying your favorite content.
Link: https://www.snaptube.com/
11. MyDramaList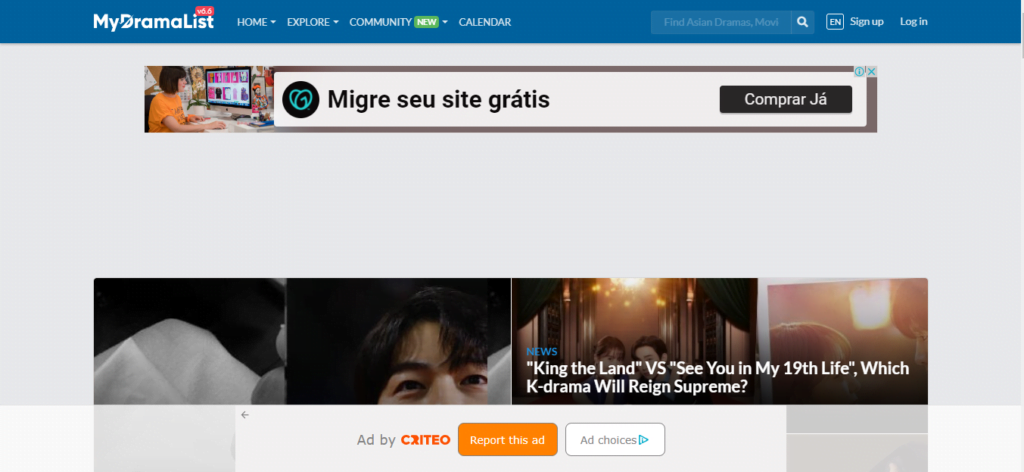 MyDramaList is another website with a page, "Top Shows," that provides a curated list of popular dramas, offering viewers a reliable resource to discover and explore the most highly recommended and trending shows across various genres.
Link: https://mydramalist.com/
12. AsianCrush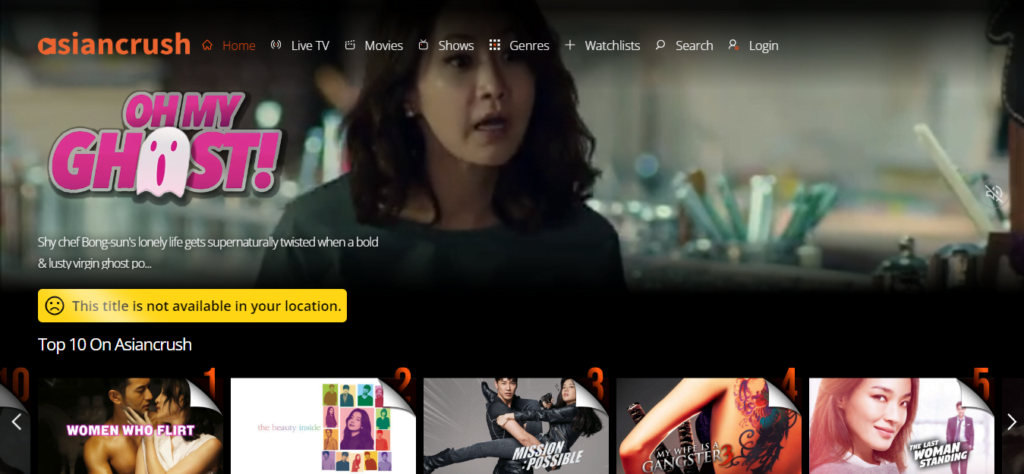 AsianCrush is the best source of entertainment for people who love Asian movies and TV series. The website shares Japanese, Chinese, and Korean shows with subtitles. AsianCrush is a must-visit for Kshows lovers.
Link: https://www.asiancrush.com/
13. ViewAsian
ViewAsian is a website that offers free movies and series in HD quality. The platform has many content, including American, Chinese, Hong Kong, Indian, Japanese, Korean, Philippine, Taiwanese, and Thailand dramas and films. You can also request ViewAsian to upload newly released movies.
Link: https://viewasian.co/
14. Sojuoppa.net
Sojuoppa.net is a free platform to watch and download movies and TV series. It has an enormous library has movies from China, Korea, India, and the Philippines. The user interface of Sojuoppa is simple and elegant. Enjoy your favorite shows on this website.
Link: sojuoppa.net
15. iQIYI
iQIYI is a website that offers both premium and free movies and series. The platform offers high-quality content for its users. It has a history page where you can see your previously watched shows. Additionally, you can change the language of the website.
Link: https://www.iq.com/?lang=en_us
16. Dramanice
Dramanice is also a similar website to Dramacool. It has thousands of Korean dramas, which is why it is famous. This website categorized its content into popular shows, upcoming shows, and movies list. Dramanice is a treasure trove to Kshows fans.
Link: https://ww1.dramanice.video/
17. Kshow123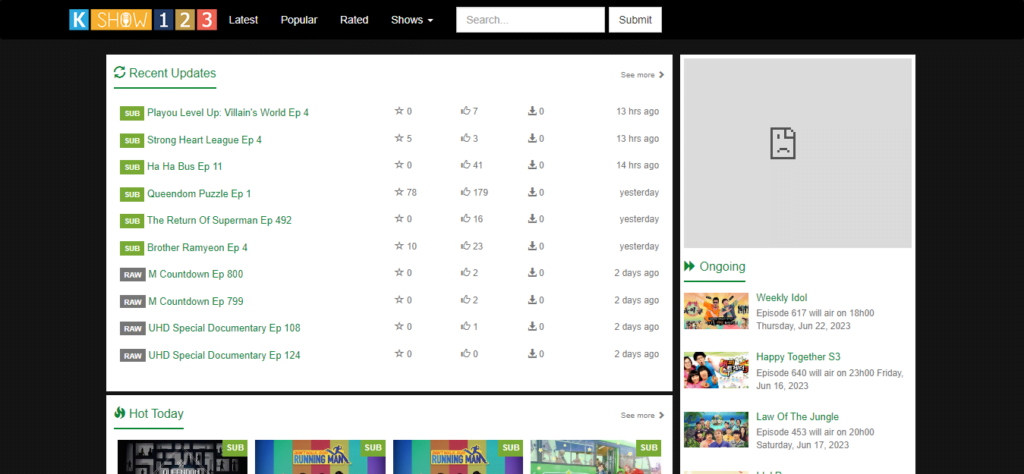 Kshow123 falls last on our list of top 17 alternatives to Dramacool because the website design is messy. However, the content of Kshows123 is mindblowing. Users can rate and download their favorite shows, such as Moms Diary, Hearts Signals, and My Countdown.
Link: https://kshow123.tv/
You may also like to read
Is Zoro.to Safe And Legit? 25 Best Zoro.to Alternatives
Is PutLocker Not Working? 15 Best PutLocker Alternatives
12 Best YesMovies Alternatives To Watch Movies In 2023.
Conclusion
Dramacool is the best website to watch Korean shows. It also offers many other Asian contents in several genres. It is a global website and has a fan following worldwide. But, the legitimacy of this website is questionable. It is essential to consider the legality of the website before streaming content, as it may lead to copyright infringement.
Additionally, exploring legal alternatives ensures a guilt-free viewing experience and supports the creators and industry. I have mentioned seventeen alternatives to Dramacool, some of which are legal such as Tubi TV.