Last updated on June 12th, 2023 at 10:21 am
The 2000s and 90s of my childhood were an exciting and mind booging time for my fellows and me. Those born during this period have been passed through many crazy trends. We also saw the rising of technology from zero to now hero. But all these technologies together murdered some f past fantastic fun. I have witnessed some notable and satisfying trends in my lifetime.
They used to be cool then; no one knows or remembers them, but some of us still miss them and want to recall them. One of that notable trends was ZooPals plates. It used to be fun, and now it returns to us quickly. People love disposable plates with different animal shapes. Like having a lion plate, you will be the group's leader, the pig may humiliate you, and you would love to have a corner.
This article will take us back to our 90s trend, and those who were born after 2006 they will have fun knowing how we spent time and how the trends used to be. It also reveals how the trends were and how the same trends behave today.
Table of Contents
Founders of Zoo Pals Plates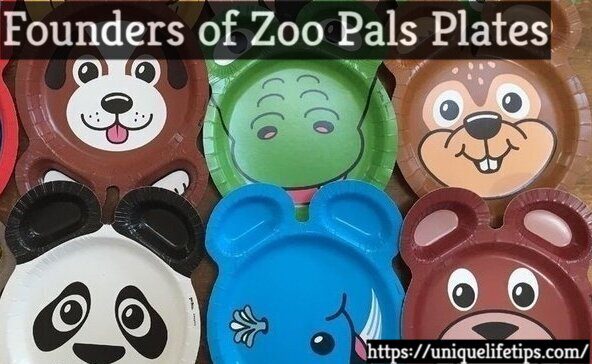 The founder of Zoo Pals is Hefty. It's an American household product company that produces multiple products like trash cans and bags. In addition, they also participate in creating disposable tableware and other disposable tableware for kids. Zoo Pals Plates is one of the inventions of Hefty. Hefty was originally founded by Mobil Chemical Co and then acquired by Tenneco Packaging in 1995. Another Reynolds Consumer Product that has owned this Hefty brand since 2010. This is the company that licensed Hefty to produce multiple products. 
Zoo Pals History
ZooPals were the trend raised between the 00s and 90s, and most people and kids used to fan it. At that time, they were not that fancy but a little spot in the heart of every 90s kid. They were famous for plates, mugs, and cups, but the plates had the next level of fun. Babies loved eating lunch, breakfast, and dinner with this mini zoo plate. It was part of the kitchen and a meal for everyone. That was not a big thing then, but it has become more critical because I miss my Frog ZooPals plate. Moreover, the brand ZooPals Plates belongs to Hefty.
Zoo Pals Plates Controversy
ZooPals were very nostalgic about the lifestyle of every American child who grew up in the 00s and 90s. Hefty, the brand owner discontinued this product construction due to low demand. Now people prefer using other disposable plates instead of these animal-themed plates. Hefty stepped, making it in 2006. I am very picky and love eating my sauce separately on my plate.
I don't like clumsiness in my meal. Therefore, I used to prefer eating with these plates. You could easily separate your sauce in the ears of your frog plate or use your panda ears to take your ketchup. But now, I cannot enjoy this separation and neatness in my food. I still tell my kids that how fun it used to be with those trends. So they are well aware and sometimes demand me to bring those plates for them. But I am compelled and can't do this favor to them because Hefty stopped making these funny and loving zoo pals utensils.
ZooPals Then Vs. Now
In the past, they used to be disposable paper plates with 3 main portions. One big portion of face in which you could add your gravy, burger, snacks, or other meal. While the other two were ears or feet of animals that people used for pouring ketchup and sauce to make a great partition.
To today's date, they are not disposable. They are fully reusable plates with the concept they used to be in the past. They were brought back in 2019 to add fun to your life. But I still miss those disposable ones so I could bring a new animal friend for me.
The latest ZooPals come with different categorized faces and animals. They also added other characters to this list, like Micky Mouse and robin hood.
Non-licensed ZooPals
This category includes Zoo pals, dogs, frogs, pigs, owls, bees, fish, foxes, and many more. This list reminds me of my past.
Disney ZooPals
This list has all the new characters in Disney cartoons. They are special designs for today's kids as they love having fun with them. It lets you entertain with many Disney characters, including Micky Mouse, Rex, Mufasa, Little John, and other similar characters.
Hanna Barbera Zoo Pals
This list has a few characters, but most people like to enjoy it. It includes.
Scooby Doo
Tom and Jerry
Yogi Bear, Boo Boo, and Cindy Bear.
Snagglepuss
Quick Draw McGraw and Baba Looey
Huckleberry Hound
Augie Doggie and Doggie Daddy
Yakky Doodle and Chopper
Magilla Gorilla
SpongeBob SquarePants Zoo Pals
Like the Hanna Barbera Zoo Pals, SpongeBob also found a few characters, including the following.
SpongeBob
Patrick
Mr. Krabs
Sandy
Squidward
Gary
Northern Iowan University Dining Hall and Zoo Pal Plates
Despite the ongoing staff shortage and low demand for the dining hall at Northern Iowan University, Hall management added a trick to reassemble their audience. Instead of their traditional plates, they served in some Zoo Pals plates. Students were having fun and started discussing the animals on their plates. They found that there was more crowd than before, and students used to gather in the hall to try the new animal faces.
Improvement in Student's Mental Health
Since the change was brought to the dining hall, the Student Health Center reported that they saw a great improvement in students' mental health. Because they discuss their plate, and this thing brings new excitement and a smile to their face. For the entire meal, they enjoy those moments with great excitement. While some students also complained that their plate had ears and paws, so how could they eat it?
Moreover, they gathered a survey in which 200 prospective students ate that plates for a week. When the survey was gathered, they found that 95% of students listed that they love coming to university to enjoy lunch on Zoo Pal plates.