If you want a website offering thousands of games for free without downloading, Poki Games has got you!
Poki games have become a famous source of online entertainment. This gaming website offers a variety of games for all ages. It has every genre of game, from action-packed adventures to brain-teasing puzzles. But what exactly is a Poki Game, and is it safe to play?
In this article, we'll discuss the top 15 Poki games. We will explore how to play them, their benefits, downsides, and whether they provide a safe online gaming experience.
Table of Contents
What is The Poki Game?
Poki is a website that offers a vast collection of online games. They are accessible to players globally and do not cost a single penny. Poki games cover various genres, including racing, shooting, makeover, puzzles, and more. The website is user-friendly, and players can easily discover and enjoy games. One of this platform's best parts is zero need for download, installation, and signup.
Is The Poki Game Safe?
The Poki website is popular for free online gaming, but safety concerns are natural. Therefore, people are curious whether Poki Games are safe or not. Poki website has gained a good reputation for providing a safe and secure gaming place. The platform only selects games that meet specific quality and safety standards. Furthermore, some games show ads, but you should avoid clicking on them. The website blocks malicious or inappropriate content, ensuring your safety.
How To Play Poki Games?
Getting started with Poki games is simple and easy. You only need an internet-connected device and a browser, preferably Chrome. Here are the simple steps to play games on Poki:
Visit the Poki website.
Browser the game categories.
Click on your favorite game.
You can start playing now.
Top 15 Poki Games To Play
Imagine a website giving you numerous free gaming options at one click; wouldn't it confuse you? Therefore, here is the list of the top 15 Poki games that will entertain you for hours:
1. Subway Surfers
Who doesn't want to play Subway Surfers? I think no one can claim it. Subway Surfers is a single-player, endless-running game that has entertained us for 11 years. In this game, the player can choose different characters and surf in the subways of famous capital cities worldwide.
2. Speed Racing Pro 2
Madalin Games developed Speed Racing Pro 2. It is a thrilling racing game in which you race against others on tracks. This game has real-life graphics. Additionally, you can customize your cars before the race starts. Speed Racing Pro 2 has different game modes to give you variety.
3. Minecraft Classic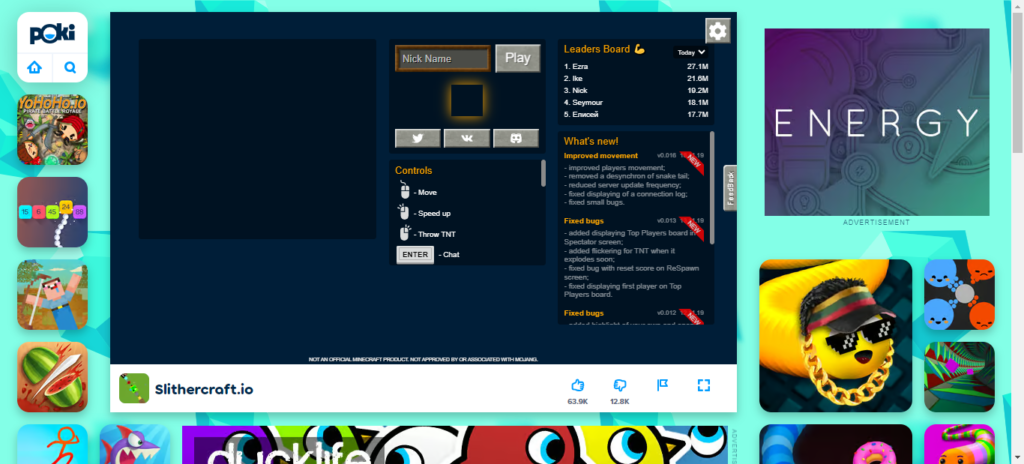 Minecraft Classic is a game with a pixelated world where you can build anything. In this game, the player must survive and build everything from scratch. The player can build different structures by using 32 unique blocks.
4. Cut the Rope
Cut the Rope was launched in 2010 by ZeptoLab. It is a physics-based puzzle and logic video game. In this game, the player must solve puzzles by cutting ropes to feed a candy-loving creature, Om Nom. Players also collect stars along the way.
5. Temple Run
Temple Run was launched in 2014. It is an endless-running game with an interesting theme. An explorer runs from horrible creatures in a beautiful temple in this game. The player must survive by avoiding all the obstacles and getting a high score.
6. Fireboy And Watergirl
As the name suggests, this game has two characters: a red Fireboy and a blue Watergirl. These two characters have distinct strengths and weaknesses. It is a two-player game where you must cooperate with another player to win the battles.
7. Moto X3M
Moto X3M is another game available on the Poki website. In this game, the player performs stunts on a motorcycle through obstacle-filled levels. Moto X3M is a bike racing game for kids and elders.
8. Basketball Stars
Last but not least is Basketball stars. It is a 2-player sports game where players can choose their favorite basketball player's avatar. This easy but interesting game is more suitable for kids as it is not challenging enough to entertain an adult.
9. Papa's Pizzeria
Papa's Pizzeria is a cooking and serving game. In this game story, Papa Louis is out of town, so Roy (the player) must manage his restaurant. You can earn money by serving the right food on time to the customers. The challenges get harder from level to level.
10. Bubble Shooter
Bubble Shooter is an interesting game, and it's everyone's favorite. The player must pop the bubbles by matching colors and clear the board on time. The stack of bubbles drops down eventually during the game. Therefore, popping it fast is the challenge.
11. Snail Bob
Snail Bob is one of the famous arcade games available on the Poki website. The storyline of this game is about a snail whose home is destroyed by humans. Snail Bob is searching for a new home and facing many obstacles. The player must guide the snail through puzzles and adventures. This game is quite similar to Mario, but the story is different.
12. Stickman Hook
Stickman Hook is a skill-based game with a stickman character. In this game, the stickman is swinging from one hook to another and trying to reach the finish line. Stickman Hook displays momentum and fun acrobatics.
13. Uno Online
Gather your friends and engage in the timeless card game Uno online on Poki. This game requires a strategy for using the Uno cards with different numbers and commands. It is a race to be the first to play all cards and shout "Uno!" before your opponents.
14. Princess Room Cleaning
Princess Room Cleaning is a game that teaches you to maintain a clean house. It is a fun game for girls. This game gives you options for cleaning rooms, such as the Kitchen, bedroom, lounge, etc. If you choose kitchen cleaning, you must wash all the dishes and clean the princess's kitchen.
15. Brain Test: Tricky Puzzle
Brain Test: Tricky Puzzle is a mind game with over 270 brain-teasing levels. It is specially designed to trick the players into interesting puzzles and questions. The challenging level of this game enhances the players' problem-solving skills.
Benefits Of Poki Games
You now understand everything about the Poki games, but what are the benefits? Its benefits are more than you can imagine. Let's put light on some of them:
You can play Poki games anytime, anywhere, because it is compatible with mobile and desktop.
People can find different genres of games in one place.
The Poki website is user-friendly and attractive.
No download, installation, or signup is required to play games on Poki.
It also offers multiplayer games to enjoy with your family and friends.
The advertisements are not offensive and only related to games.
Poki game also offers puzzles and tricky games that stimulate your mind.
It is a kid-friendly environment, and parents can trust this website.
Downsides Of Poki Games
Despite all the benefits of the Poki Game, you should not get addicted. Here are some of the downsides of playing Poki games:
Excessive use of mobile or laptops can lead to weak eyesight.
You can get addicted to Poki games because it provides unlimited games.
Ads between games can interrupt players.
These games might harm users privacy.
You can neglect other responsibilities. to play these games.
Final Thoughts:
The Poki games allow players to access multiple games in one place. It is a safe platform for all age groups. But you should maintain a balance between your gaming and other life activities. Additionally, choosing what to play in Poki is challenging because of several options. Therefore, I have listed the top 15 Poki games for your enjoyment. So, take a break from your daily routine and explore the world of limitless entertainment with these top-rated Poki games.