Last updated on November 27th, 2023 at 09:55 pm
Dream by Wombo is just made for you if you want to make adorable artwork. This app uses artificial intelligence to create stunning artwork. It is straightforward to operate. Also, to get some inspiration, you can check out other examples.
The reason is that you can quickly get the words or phrases that other people entered. You can also select from these words and phrases. However, it's your choice whether you want a landscape-type artwork or an airplane. Here, you can avail the ideal image that you ever wish to.
You will be surprised to know that different styles are available such as pastel, steampunk, dark fantasy, and synthwave. Another great feature of a Dream by wombo is that it is a stunning app for creating artwork in just a few seconds.
You just have to type a few words in a text box and then see the magic. Then you have to choose your favorite style and create the artwork that you have in your mind.
What is a dream by wombo?
First of all, what is Wombo? It is a Canadian company famous worldwide through its AI-powered lip-syncing app. This app has made advanced instant text-to-image AI art-generating technology. Therefore, the good thing is that you will get the 100% original, unique, and stunning artwork you want through this AI generator.
But keep this thing in mind; it all depends on what type of text you are using. So it means that your text should be clear so that you will get the required artwork that you want. Dream by wombo supports the algorithm of the clip method. Remember that this network is a downloadable algorithm to check particular data patterns.
Therefore, entering the text gives the best image caption pairing option from the internet for any photo-related caption.
What is the purpose of a dream by Wombo?
This app does not need any account to be created.
It also supports the NFT option to make something new by remixing your existing NFTs.
You can access this website through iOS, PC, and Android devices.
You just have to pay for the design you are printing.
It is an open-source tool free of cost for creating any type of artwork.
You can also avail of social networks with this app.
The good thing about Dream by Wombo is that you can easily make a copyright-free personalized playlist for freelancing.
You can also save your artwork in your gallery to watch it later and share it with your family and friends.
Astonishing features of a dream by Wombo
You must use this app creatively and make your artwork distinct and astonishing. It is a very easy-to-use app and easily accessible to its users. Also, your artwork will be competitive and attractive. Let's discuss some of the passionating features of this AI art generator.
Giving input images is optional because when you give your input image, it will be used as a reference for the final output artwork.
You will be surprised that this app has 42 art style options such as realistic, HDR, meme, Flora, etc.
You can also change the background color to black and white using the sun and moon option on the homepage. These options will give a central vision of the page.
The most prominent thing is that you will not get a repeated design in this app.
Along with the given options of designs, you can also use any of your customizable prompts to make unique art out of that prompt.
Sixth prompt text options, such as never-ending flowers, groovy time, sunset clips, etc., are available.
Advantages of Dreams by Wombo
When you are used to this app, you can easily understand its advantages through this app. You will be surprised to know that this tool has multiple benefits for personal and office use.
You do not have to go for any professional assistance while creating your artwork.
It will give you innovative results in fashion, graphics, interior, video gaming, Walmart, and many other creative fields.
You do not have to use a pencil, paper, pen, color, or brush to create your artwork. Most surprisingly, there are unlimited options for various art styles, designs, patterns, themes, etc.
Is Dream by Wombo free?
Yes, Dream by wombo is free of cost as it is an image editing program. It uses artificial intelligence to give abstract artwork based on the action provided by the user.
How can we use the wombo dream app?
As I also discussed earlier, it is a very easy-to-use app. In this part of the post, we will discuss how to use the Wombo dream app in detail.
Making a new account or starting without the account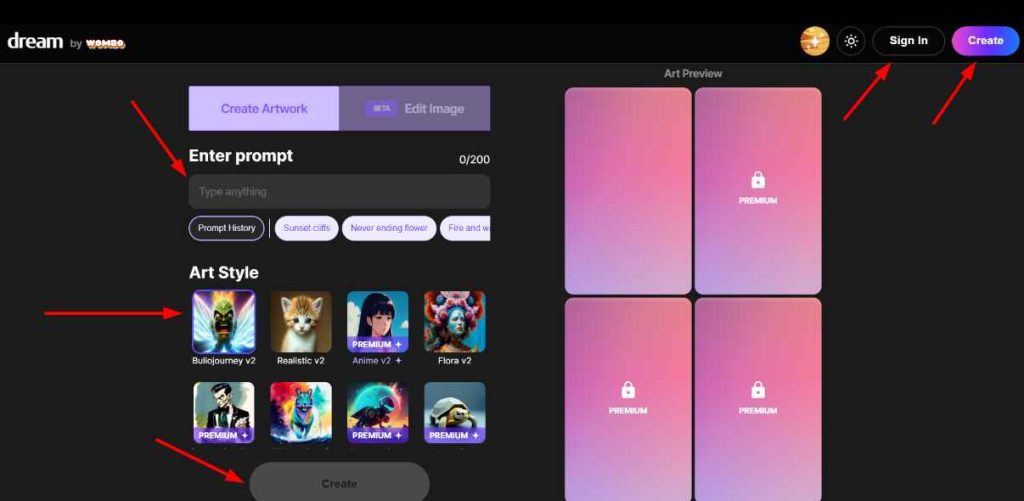 Also, I discussed earlier that registration is unnecessary to use this platform. However, it gives an option whether you want to make an account or not. You must tap the get started button to take you to the AI artwork generator. After that, you can easily use different options according to your choice.
It also gives you the option of whether you want to save your artwork on your Android or iPhone. This is one of the best benefits it provides to its users. However, after making an account, you will get direct access to the social networks of Wombo, including discord.
So after signing up for this app, you will become a member, and the next time you just have to log into the app simply. Then, press the plus button on your profile to start pressing creative endeavors.
Writing a prompt
In this step, you have many possibilities, so from the start, two options are there for you. Whether you want to enter it yourself or you can enter the suggested prompts from the app. Whether you are using simple phrases when making a specific request. But the good thing about this software is that it will try to give you the required results. You can also use different terms until you get a result you like.
Selecting an art style
You can easily select your art style according to your choice. On the app, there are 34 distinct styles to choose from.
Checking and naming your AI art.
Now, you can access your artwork, and then it's time to name it. After that, you will select the original prompt to be visible as a fascinating touch.
Saving, sharing, or buying your artwork
When you have your beautiful artwork, you still have several options. You can easily select the download icon to save it on your device. It's your choice which format you can go for. Now, you want to keep it in a PNG or JPG file. You can also make it your background.
Wombo Dream makes AI art more accessible than ever.
The app's algorithm uses the clip-guided method where you just have to tap "publish" to save the new work to your gallery. After that, you can also share your piece of art on different platforms, whether Instagram, Twitter, Facebook, etc.
You can do it very quickly because you will get a share button on the final page if you want to share it on different platforms. You will just have to click it and transmit it very quickly.
Ultimately, you still have the choice to buy the print button or a real replica of your artwork. But keep in mind that it depends on the size and print style, and the price of this type of painting ranges from $20 to $100.
Pros of Dream by Wombo
This platform delivers a clear idea and color scheme in its way.
You can quickly get a picture from any keyword, and the image is different every time.
The picture gives us the artwork of every emotion.
You can easily organize your artwork into different albums or collections.
Stunning and nude images
With the help of regular updates, you can easily see other people's creations.
Runs very smoothly on any Android device or iPhone.
Cons
Sometimes, saving images on your phone is difficult.
Some people call this app to be very simple.
You can get a print of every photo for at least $45 or above.
You will get no option for canvas, orientation, and shape.
There are no resolution options while downloading the artwork.
Sometimes, AI is not able to draw people or faces accurately.
No, there is no option for the more extended rendering of a specific generation.
READ ALSO: PNPCoda Review: What Is This? Everything You Need To Know
Frequently Asked Questions
How trustworthy is Dream by WOMBO?
Yes, the WOMBO app is entirely safe. In 2021, Wombo released a mobile app that uses a selfie to create a lip-synced image of a person.
Dream WOMBO: How does it work?
Like many other apps that create generative art, Wombo Dream's app works by combining two artificial neural networks. This two-network system is known as VQGAN and CLIP. This neural network generates images similar to others using VQGAN.
Is it possible to sell art made on Wombo Dream?
If you follow our Terms of Service, any image created using the Dream API can be used commercially.
Final Thoughts
At best, Dream is a fun way to pass the time when you're bored scrolling through Instagram. The app produced generic and unimaginative output for the prompts. The artwork generated was primarily surrealistic despite my attempts to develop more realistic artwork.
Sometimes the artwork seemed so random and abstract that it was difficult to distinguish its intended subject matter. You can easily tell which AI software is more intelligent by comparing art produced by Dall-E and Dream. To create the artwork below, I was given the prompt of a ukiyo-e painting depicting a woman in space while reading a book.